BRF is building our region's future, one initiative at a time
We are economic development, establishing business environments like the Intertech Science Park, where some of our area's most creative companies are positioning themselves to become tomorrow's biggest success stories.
BRF is building our region's future, one initiative at a time
We are healthcare, preserving and enhancing the safety net hospitals in Shreveport and Monroe as well as providing Shreveport's only Level 1 Trauma Center. University Health System is one of just six in the country affiliated with St. Jude Children's Research Hospital.
BRF is building our region's future, one initiative at a time
We are entrepreneurship, launching startups through the Entrepreneurial Accelerator Program that create jobs and promote economic development.
BRF is building our region's future, one initiative at a time
We are innovation, helping scientists in BRF facilities such as
the Center for Molecular Imaging and Therapy and the Virginia K. Shehee Biomedical Institute discover new therapies and knowledge.
BRF is building our region's future, one initiative at a time
We are education, helping to shape minds with programs like the Digital Media Institute at InterTech and science and technology enrichment curricula at local schools.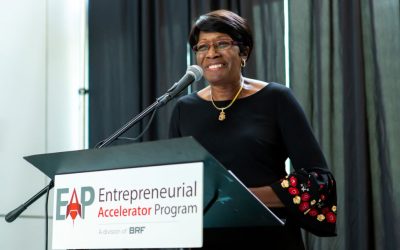 10 new startup companies added to EAP's Wall of Entrepreneurial Achievement BRF's Entrepreneurial Accelerator Program (EAP) celebrated its fourth year of operation and successful launch of local high growth startups with the addition of 10 new startup companies to its...
Sign up to join the BRF news list to get BRF news and updates delivered to your inbox.
Learn more about BRF and its initiatives at our YouTube channel.
BRF maintains and promotes the InterTech Science Park, an 800-acre urban Brownfields, smart growth initiative located in the Kings Highway/Mansfield Road area of Shreveport. The resident companies represent pharmaceutical, digital and entertainment media, drug discovery, venture capital support and environmental industries.
As part of the Governor's LSU hospital privatization plan, in 2013, BRF orchestrated the transition of the two LSU hospitals in Shreveport and Monroe from state to private management in just 135 days. BRF operates the safety net hospitals under its wholly owned subsidiary — the University Health System. Both hospitals are academic medical centers affiliated with LSU School of Medicine. The transition retained more than 3,000 jobs and more than $800 million in annual economic impact for north Louisiana.
The Center for Molecular Imaging and Therapy, formerly the PET Imaging Center, was established as the first positron emission tomography imaging center in Louisiana. It specializes in the production and distribution of radiopharmaceuticals, technologically advanced clinical trials and research opportunities for scientists.
The Entrepreneurial Accelerator Program (EAP), launched in 2014, seeks out and evaluates new products and ideas, and with its team of professional analysts, helps entrepreneurs determine the best business model for their product, and grooms them to present their product to investors.
The BRF is committed to providing training and education for our community. The BRF chooses to invest in programs that cultivate a workforce with the skills, understanding, and creativity to excel in a knowledge economy.
Future State serves IT and Electronic Medical Record (EMR) needs for health systems – from regional hospitals to private clinics – through its product, EMR Everywhere. EMR Everywhere's goal is to provide healthcare entities with an affordable, technologically advanced electronic healthcare system via its EPIC healthcare platform.
BRF created the Office for Research Development and Administration (ORDA) in 2015 to seek and pursue new research initiatives and provide support for the conduct of clinical trials towards new treatments and diagnostics, improvement of patient care and economic development of North Louisiana.
The Digital Media Institute at InterTech prepares students through a one-year accelerated program offering experience in animation, visual artifacts and computer graphics for film and interactive gaming in a real-world atmosphere. The Institute's mission is to deliver rapid 21st century training to students to prepare them for careers in digital media.
Mission
Diversify and grow our region's economy.
Vision
Operate as a catalyst to expand and develop research, entrepreneurship and high-growth businesses in our region.
Values
Innovation. Collaboration. Problem Solving. Bold Action.